Venue
Join Us in Sønderborg
Information Facilities/Services
Opening hours: Wednesday -Thursday 8:30 - the end of the day
The registration and information desk can be found aside the main entrance to the building. There you will also find help in case of any questions or uncertainties.
---
Internet
Internet is available in the building via EDUROAM with your email and password or you connect via the SDUguest connection that is also available. This requires no password.
---
Conference Rooms
The plenary sessions will be in the Concert Hall, the parallel sessions will be in the rooms as indicated in the program, either Concert Hall, U109 or U101.
---
Lunch
On Wednesday Lunch will take place in the basement restaurant area.
On Thursday, lunch will be prepared for you on the first floor in the window area where the elevators are located.
Have a look on the menue.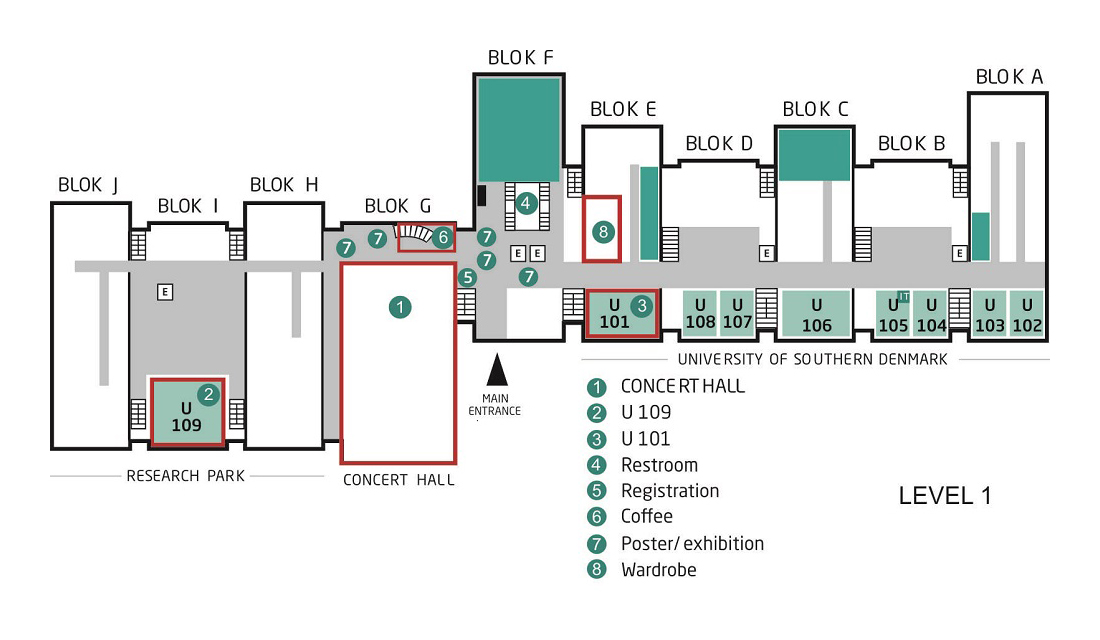 By Car
Approaching us from the north:
Take exit no. 71 motorway E45
Continue towards Sønderborg on the main road 41
Drive towards Sønderborg V on Aabenraavej
Follow signs to Alsion
Approaching us from the south (the Danish/German border):
Take exit no. 75 motorway E45
Drive towards Sønderborg via Kruså
Continue straight ahead along Sonderborgvej towards Sonderbørg
After approx. 30 km, turn right towards Dybbol Banke
Continue straight ahead until Alsion appears on the left-hand side
---
By Train
The Sønderborg train station is right opposite the main entrance of the building.
There is a train connection that brings you to Flensburg. From there you need to take a bus to Sønderborg. Alternatively, you take the train to Sønderborg from Hamburg, which takes about 3.5-4.5 hours, depending on the exact connection.
---
By Plane
Copenhagen airport has a flight connection to Sønderborg. Alsie Express flies approximately 5 times a day. The duration of the flight is about 30 minutes.
Hamburg airport is 200 km from Sønderborg.
---
Need a Taxi?
If you need to call a Taxi, dial: +45 74 42 18 18
Alsion is 10 minutes from Sønderborg airport by taxi and costs about 150 Kroner or 20 Euros. There is a special phone at the airport from which you can call a taxi if there are none available outside.
Hotel Accomodation
We expect you to arrange for your overnight stays by yourself. However we have an agreement with the Hotel Comwell that is closest to the conference site.
If you wish to book an overnight stay with them please refer to the booking code 4154731 and the conference to get an offer at an eligible rate. Please ask for the cancellation policy to avoid any trouble.