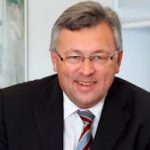 Honary Professor at the University of Oldenburg
From 1998-2015 Professor Brinker was chairman of the Executive Board of EWE AG, the 5th biggest energy supplier in Germany, Energy Manager of the Year 2006. For seven years until 2015 he was chairman of the board of the 'Forum für Zukunftsenergien' in Berlin. He was cofounder of the NEXTEnergy Institute at the University of Oldenburg where he became Honary Professor in 2015 for Energy and Technology.
Professor Brinker is an economic manager and mentor of energy economics.